Support your fitness goals and fuel your busy life with my delicious and satisfying whole food vegan meal recipes
Recipes are 100% vegan which means they are good for your health, the environment, and the animals.
High-quality nutrient dense food is the key to building muscle while also giving you the energy to conquer your day and crush your workouts.
Gain muscle and lose fat without compromising your health or well being!
I have perfected these recipes to fuel my own active life. In my eyes, healthy eating and fitness should go hand in hand.
31 plant-based recipes to fuel your active lifestyle...
Breakfasts
Lunches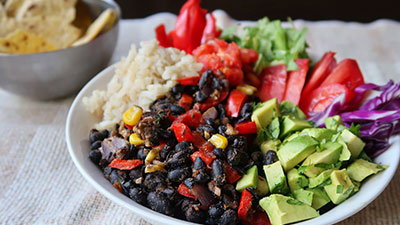 Dinners
Snacks
MEET YOUR VEGAN NUTRITIONIST
My passion for health sparked my decision to try a whole food, plant-based diet in 2011. Since making the change, I have never felt, performed, or looked better and want to share my success with you!
As a Certified Nutritional Practitioner, over the past 3 years, I have been coaching people online and making YouTube videos teaching and inspiring others to reach their fitness and lifestyle goals through healthy, wholesome plant-based food with a natural approach to fitness and movement.
When I first became a nutritionist, I was a runner and my physique represented that. I believed strongly in the vegan diet and knew I wanted to promote that the best way I could but I was consistently met with the argument "sure that diet might work for you, but I want to put on some muscle"...
I quickly realized this was going to be a big roadblock for me, as many people do like the aesthetics of a muscular physique. So I knew I had to put on some muscle and to do that I had to EAT!
A lot of the recipes I found were either boring or contained items I couldn't easily find at the grocery store. That's when I started experimenting more in the kitchen and pushing my body with calisthenics and weights.
Before long my physique was changing and my meals were getting better and better.
The meals I have in this ebook are what I consistently eat! They have helped me to fuel my intense workouts, recover quickly and also stay lean year round while continuing to put on muscle and I'm excited to share them with you!
My message has now reached 100's of thousands of people on social media, I am supported by some of the leading vegan brands worldwide, I get to travel the world doing what I love, and have the most amazing community of people aspiring to live plant-based, healthy lifestyles.
What people are saying...
Alex Yallop - Norwich, UK
I've been making your smoothie bowls after my morning runs and my god they are good! I FEEL ALIVE!
Ryan Dixon - Kentucky, USA
Derek's recipes have helped me tremendously while transitioning to a plant-based diet. I have lost over 60 lbs and feel amazing!
Greg - Australia
I've always lacked inspiration for creating new vegan meals. Derek's recipes changed that. The simple and tasty meals have given me so much energy
Mckenna Gray - Alberta, CAN
Your easy peanut sauce is my go-to sauce for warm bowls! It's simple and quick to make and is SO tasty.
PDF Recipe eBook
Instantly download to any device (iPhone, Tablet, Desktop, Android) after purchase. Calorie, Macro count & photo are included with each recipe.
31 Vegan Recipes
Each recipe includes the calorie and macro count as well as a beautiful color photo so you can see what you are making before you start cooking. Recipes are low in salt, oil and processed sugar.
Prep Guidelines
Don't know how to cook quinoa? No problem! Easy to follow cooking guidelines for grains, legumes and vegetables are included!
Smoothie Bowl Instructions
If you follow me on social media you know that smoothie bowls are a staple in my day, and for good reason! They are easy to make, fun to eat, and super filling. I've provided step-by-step instructions of how to turn any smoothie into a smoothie bowl.
BONUS

Daily Support from Derek in the Private Facebook Group.

Having the daily support and an inspirational community is essential to creating a healthy lifestyle. With your ebook order, you will gain access to the Simnett Nutrition private Facebook group where Derek and his team will be there daily support you on your journey and answer any question you may have!
100%
Money Back Guarantee
I realize that buying this ebook means you are ready to commit yourself to a healthier way of eating. If you have any questions along the way, please ask for help! I am here for you. With that being said, if you are not fully satisfied with the recipes after 30 days of trying them out, I offer a 30 DAY money back guarantee.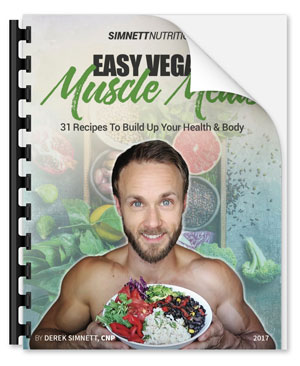 Includes one PDF version of Easy Vegan Muscle Meals
31 whole food vegan recipes
Calorie, Macro count & photo with each recipe
Preparation guidelines and smoothie bowl instructions
BONUS: Daily support in the Private Facebook group
Frequently asked questions
Macros & Calories included?
Yes, macros and calories are included with each recipe for those interested.
Are there any hard to find or exotic ingredients used?
All ingredients used are easily found in any grocery store.
I am gluten free, can I still make the recipes?
Yes, all recipes are gluten free friendly!
Are recipes measured in cups (imperial) or grams (metric)?
Recipes are measured in cups (imperial).
Will paperback copies of the ebook be made?
At this time, no plans to create a physical copy for my ebook are in the works but who knows what the future holds. Let me know if you're interested!
More feedback from the community...
Dean - Ontario, CAN
Your smoothie recipes are amazing for recovery after a workout or a delicious snack any other time! They give me LIFE!
Gilbert - Monterrey, Mex
Once I dropped meat and dairy and started making your huge green smoothies every day, it has drastically diminished the severeness of my acne.
Logan - Texas, USA
The sauces are absolutely killer! They have made my salads 10 times better. Thanks for the awesome recipes Derek.
Shawn - California, USA
I have been making the green smoothie every morning for myself, my wife and my three teenagers. It has improved our lives and energy levels!
Darren - British Columbia, CAN
You and your recipes have been great guidance for me while switching to a whole food, plant-based diet. I continue to make gains in both the kitchen and my workouts!
Get access to my Easy Vegan Muscle Meals today!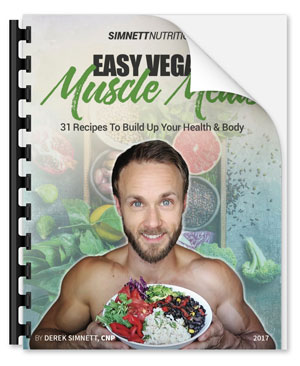 Includes one PDF version of Easy Vegan Muscle Meals
31 whole food vegan recipes
Calorie, Macro count & photo with each recipe
Preparation guidelines and smoothie bowl instructions
BONUS: Daily support in the Private Facebook group
" Enjoy my meals that I eat every day to stay fit and healthy! "
Derek Simnett Certified Nutritional Practitioner